Classic Death
Temptation in Florence #6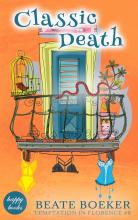 When eccentric fountain pen collector, Xaviero Monti, falls to his death, the Mantonis are convinced it's murder. After all, only the good die young, and Xaviero was anything but good. Commissario Garini, however, is sure it was only an accident and refuses to investigate, until the determined Mantoni family forces him to question all the members of the Florentine Fountain Pen Club.
At the same time, the Mantoni family reaches unexpected heights of delight when they learn that Carlina & Stefano are engaged. While Garini tries to get the avid collectors to speak of something besides fountain pens, he also has to stop the family from planning the wedding of the century. Will the engagement lead to the wedding or will the pressure be too much to bear? And will Garini uncover the murderer's diabolical scheme in time to prevent another twisted death?
Classic Death is the sixth in the series Temptation in Florence.
reviews:
5 stars
Beate Boeker does it again!
Beate Boeker does it again in Classic Death (Temptation in Florence Book 6). The crazy Mantonis are once again trying to "help" solve a murder while Carlina and Stephano plan their wedding. This mystery is intriguing and fun and as unpredictable as the Mantonis! A great read for a snowy winter day or a sunny day at the beach!
Dan Agne
5 stars
Mystery and mayhem
Ms. Boeker is a genius! I was fortunate to be a beta reader on this project. This book keeps you guessing "who dun it" from the very beginning. The story line is unique and very informative. Her characters were well developed and people you'd like to know personally. Over all, Ms. Boeker did a fabulous job. I highly recommend this read to any who fancy a bit of mystery and mayhem.
Grace Augustine
5 stars
Sweet and Unexpected Murder in Sunny Florence
I received and ARC (advance review copy) and I was not requested to post a review unless I wanted to. And after reading this book, I do want to.
Let me start by saying that I am writing this review with pleasure, this is a book I can highly recommend and I am certain you'll enjoy it as much as I did. This is not the first book I read from this author: I like her writing style, pleasant, smooth, relaxing – you enter effortlessly into the happy, highly Italian and sunny world that is typically hers…and of her characters, Carlina, of American origin and owner of a lingerie shop and her lover and partner, Garini, a rough, savvy and very simpatico Florentine police officer. If you've read any of her previous books about the complex, frolicking, plotting Fellini-like family Ms. Boeker loves to tell us about, then you'll love this book – another good one added to the series.
Claude Forthomme (Nougat)