Romance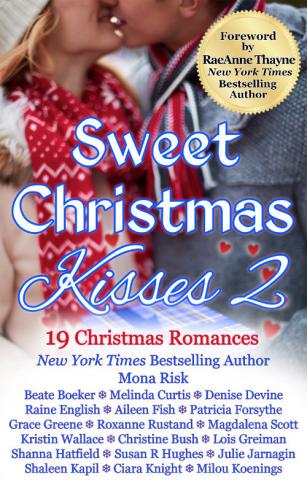 Sweet Christmas Kisses 2 takes you from the Smoky Mountains to Florida's sun-drenched beaches, from the Italian Alps to Paris, France, and even to a quirky little town in Arizona. The Sweet Christmas Kisses 2 bundle features all-new, stand-alone stories that are sure to make you laugh, sometimes bring tears to your eyes, but always put you in the Christmas spirit. Foreword by New York Times bestselling author, RaeAnne Thayne.
Christmas Papa by Mona Risk, New York Times, USA Today, National bestselling and Award-winning author. With twin toddlers to care for, she can't forget her past until a playboy's kisses challenge her to believe in herself.
Gingerbread Kisses by Beate Boeker, USA Today and National bestselling author. A cookie specialist finds sweet romance in the snowy Alps of Italy.
Boycotting Christmas by Melinda Curtis, USA Today, National bestselling and Award-winning author. A bachelor seeks Christmas magic from a woman who's boycotting Christmas.
A Christmas to Remember by Denise Devine, USA Today, National bestselling and Award-winning author. Stranded together in a blizzard, Katie and Ryan discover the true meaning of Christmas.
An Angel for Christmas by Raine English, USA Today, National bestselling and Award-winning author. A down-on-her-luck single mom finds love at Christmas.
The Cowboy's Christmas Bride by Aileen Fish, USA Today and National bestselling author. A snowstorm and a cow in distress bring a rancher and a veterinary student together for the holidays.
Lucky Break Christmas: Second Honeymoon by Patricia Forsythe, USA Today, National bestselling and Award-winning author. Christmas is the perfect time to try and make a failed honeymoon go right.
Beach Walk by Grace Greene, USA Today, National bestselling and Award-winning author. An oceanfront cottage—Kelli lives there; Dylan wants to. Will Christmas give them a do-over at finding happiness?
An Irish Christmas Blessing by Roxanne Rustand, USA Today, National bestselling and Award-winning author. Eve goes to Ireland to run a quaint village bookshop and meets a stranger who just might steal her heart.
Christmas Wedding by Magdalena Scott, USA Today and National bestselling author. Second chance love, and a designer dress, in a Christmas card setting.
Finding You at Christmas by Kristin Wallace, USA Today, National bestselling and Award-winning author. She's going to find her destiny this Christmas.
Christmas Laurel by Christine Bush. Can a female army veteran find healing and love with the magic of Christmas?
Country Christmas by Lois Greiman, Award-winning author. Heartbreak turns to happiness in the healing splendor of the Black Hills of South Dakota.
The Christmas Crusade by Shanna Hatfield, National bestselling author. Two old flames reunite with a little holiday magic.
The Christmas Charm by Susan R. Hughes, National bestselling author. Can childhood friendship blossom into love?
Evergreen Romance by Julie Jarnagin. A couple reunites while working together at a Christmas tree lot.
My Christmas Cupcake by Shaleen Kapil. A last minute Christmas Eve errand to the bakery cooks up romance.
A Christmas Spark by Ciara Knight, National bestselling author. An abandoned cabin becomes a healing home for the holidays.
Sweet Blizzard by Milou Koenings. He saves her life, she could make or break his; will the gift of love come in time for Christmas?
Reviews

***Sweet Christmas Kisses 2 is a USA Today bestseller!***                

"Mona Risk knows how topull a reader into the minds of her well-crafted characters." ~Night OwlReviews
Beate Boeker "An absolute delight to read" ~Amazon Reviewer
Melinda Curtis "Season of Change has found a place on my keeper shelf." ~BrendaNovak
Denise Devine "This writer never disappoints." ~ChristineArness
"I just loveall of Raine English's books..."~Amazon Reviewer
"Aileen Fish createscharacters that seem to jump off the page." ~Amazon Reviewer
"Patricia Forsythe's booksshow warmth and humor..." ~Roz Denny Fox
"Grace Greene,with a captivating style, writes a compelling story..." ~Long and Short Reviews 
"Roxanne Rustand has agift for capturing the essence of relationships..." ~Midwest Book Reviews
"Magdalena Scott...carriedme along to a get-away where... I end up back in touch with my better nature."~Amazon Reviewer
Kristin Wallace "I appreciate Kristin's fast paced storytelling..." ~Amazon Reviewer
"MasterStoryteller Christine Bush alwaysleaves her readers feeling warm and fuzzy..." ~Debra Mullins
Lois Greiman "Amazingly good!" ~RomanticTimes
"Shanna Hatfield has cometo be one of my favorite authors..." ~Cyn's Reviews
"Susan R. Hughes createscouples who are so real that I always feel like I might know them..." ~Jeanie Jackson
"Julie Jarnagin shows hermastery of plot with a story that engages the reader..." ~Amazon Reviewer
Ciara Knight "Readers will be sucked into Knight's story..." ~InD'TaleMagazine
"'Oh rats! Thebook is over!' and you are sad and head directly to Milou Koenings' website..."~Bubble Bath Books
Excerpt

I pressed my thumb and forefinger into the sides of his belly, using more force than necessary. He didn't take kindly to being mishandled – gingerbread rarely does. But I wasn't in a mood to handle him with the care that I usually used for my sweet Christmas creations. I was furious. In fact, I felt like rolling him into a ball and smashing him against the wall. A little too much belly-pressure was nothing compared with what I really wanted to do with him.

Though it wasn't his fault. He was a faultless gingerbread man – or rather, he would be, as soon as I had repaired his midriff, which reminded me now of a wasp.

"He's way too fat." That's what my sister Natasha, the Christmas bride and Queen of this year's holiday celebrations, had decreed five minutes ago when she'd checked on my progress in the spotless kitchen of the Dolomitissimo Luxury Hotel & Spa. Too fat! My little, yummy, sweet gingerbread man!

Not that I was seeing any parallels here, but I kept my gaze firmly on the flattened dough in front of me, ignoring the little roll around my midriff where quite a few predecessors of my gingerbread man had gone.

It had all started a year ago, when my younger sister got engaged to the richest bachelor in town, Angelo Bertolli. His family owned (amongst other things) a luxury hotel in the Dolomite Alps in Italy, and before I knew what was happening, they made plans for a Christmas wedding to end all Christmas weddings – in Italy, in the mountains!

Not that I wanted to complain. A luxury, chalet-like hotel during Christmas in a winter wonderland would normally have been way out of my league – and even now, when I only had to pay the plane ticket from Boston, my budget was stretched. It had also been quite hard to organize my little company in such a way that they wouldn't miss me for a full week in the middle of the busiest season. But I had made it. "Carol's Cookie Company" would fly without me. Now, I only had to create my famous gingerbread men and women as name cards for the one hundred and fifty exclusive guests of the wedding. My sister had asked me to do that instead of a marriage gift, and I had happily agreed, not knowing that she would turn into a nervous control freak just hours before the wedding.

I had it all planned in advance, right down to the last detail – I had even asked the hotel manager to e-mail me a picture of his kitchen, including an overview that showed me where to place everything. Okay, so I'm an over-organizer. It's because I hate pressure. I also hate last-minute things. I hate to be rushed. And now, when all my gingerbread men and women were formed, when the schedule was running smoothly, when all last minute problems had happened and been dealt with as usual, and when all the cookies were safely turning a golden brown in the oven, giving out their spicy scent . . . now my sister said they were too fat! She didn't want to have fat gingerbread men and women as name cards. They had to be slim. Ha. A slim gingerbread man? What a farce. A gingerbread man had to be jolly and well-rounded and cute to bite into – not slim and sporty or whatever my deluded sister had in her mind.

I felt a tear running down my face and wiped it away with a mix of anger and helplessness. Where had that stupid thing come from? I didn't cry easily. In fact, I couldn't even remember when I'd last cried. Another tear rolled down. I sniffed and turned away from the dough. It wouldn't taste well soaked with salt water.

I lifted my gaze to the broad window and blinked away the tears, focusing on the breathtaking mountain view behind the log cabins. Craggy mountain tops, piled high with snow, glistened in the pale winter sun. Above them, the sky arched blue and pure, aloof and unreal, so far removed from any earthly problems. To the right of the kitchen building, a fir tree stood, each branch covered with thick snow, perfect like a painting. A winter wonderland indeed.

This afternoon, my sister had an outing arranged for all the guests who had already arrived. Sleighs would take them to the picturesque village down in the valley where they would stop for a hot chocolate, and then, they would return while the sun was setting majestically in an amazing display of red and gold – or so the description in the invitation had said. I'd been looking forward to this outing for months because ever since I was a little girl, I'd dreamed of riding in a sleigh, with little bells ringing and horses snorting. Just like the song, in fact. But now, I could bury that dream. I had to slim down all my gingerbread men and women.

Another tear escaped. If I was being perfectly honest with myself, the tears weren't only because of the gingerbread-diet. They were also because my sister was starting a new phase in her life without me. She was five years younger than I was, and we'd always had a special relationship, right from the beginning, when my mother had placed that beautiful baby into my chubby arms. Natasha had been sickly at first, but whenever I held her, she'd calmed down, and gradually, without really noticing, I became her surrogate mother, probably because our mother rarely showed motherly feelings. When I was fifteen, our parents left Boston and moved to Los Angeles. We had an elderly aunt taking care of us at first. She loved us dearly and had been living right next to us for years, so it wasn't much of a change in our lives. After her death five years later, we continued on our own, and that had been fine; we had each other.

But now she had left me behind.

No, I was not going to think of that.

I pulled a tissue from my red apron that featured the distinctive logo of "Carol's Cookie Company" – three curlicued Cs entwined around each other – and resolutely blew my nose. I stuffed it back, doused my hands in disinfecting alcohol, and returned to my dough, but at that instant, I saw someone out of the corner of my eye.