Romance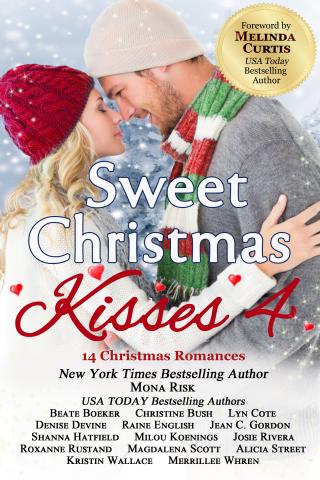 Usher in the holiday season with 14 heartwarming all-new, stand-alone stories from New York Times, USA Today, national bestselling, and award-winning authors. Sweet Christmas Kisses 4 takes you from the Pocono Mountains to sunny Florida, and as far away as Portugal.
Curl up with your favorite hot beverage and enjoy this sweet romance boxed set that's sure to put you in the mood for Christmas.
Mona Risk, In Time for Christmas
Dr. Sylvia Reynolds promised to be at her parents', in time for Christmas dinner, but her priorities change after she meets a motherless baby and her gorgeous uncle.
Beate Boeker, Unique Christmas
Chiara hopes to spend a solitary Christmas all by herself. But when a man jumps through her office window to save her from an accident, things spin away—beyond her wildest dreams.
Christine Bush, Christmas with the Cat Lady
Carly is happy living alone in her mountain house with her cats. Can the handsome author who rents a room over the Christmas holidays change her mind?
Lyn Cote, Loving Winter
At her cousin's wedding, Winter Woodard, owner of her family's garden center, isn't expecting to meet her match in local football coach, Clay Dixon, (she isn't IN to sports!) but he stands by her through a holiday season fraught with unexpected setbacks.
Denise Devine, Once Upon a Christmas
Small town girl returns home to find love and success, but can she outlast the mistakes of her past?
Raine English, Christmas in Walnut Creek
Will a Christmas blizzard reunite a couple and give them a second chance at love?
Jean C. Gordon, A Team Macachek Christmas
Sparks fly from a Christmastime reunion of motocross racer Jesse Brewster and his ex-girlfriend Lauren Cooper. But is it the wrong time for their love?
Shanna Hatfield, Saving Mistletoe
A stubborn cop, a hotshot attorney, and a little girl determined to see her father need a miracle to make this holiday season jolly and bright.
Milou Koenings, The Gift of Yesterday
When Bailey returns to Green Pines to open a pastry shop, Joe Hudson sees all his Christmas wishes coming true—if only he can convince her to risk her heart again.
Josie Riviera, A Portuguese Christmas
The holidays—like love—can sneak up on you. And sweep you away like a riptide.
Roxanne Rustand, A Christmas in Montana
Kristen Weatherby goes to Montana to get her late grandmother's house ready to sell, but finds much more than she bargained for: a house she can't let go, a charming mountain town, and a handsome veterinarian who just might steal her heart.
Magdalena Scott, A Cowboy for Christmas
Hannah Kincaid is in love with Jacob Hollingsworth, and will overcome her fear of horses and his bossy brother Michael to get a Christmas happily-ever-after with the cowboy of her dreams.
Kristin Wallace, Loving You at Christmas
Annaliese Matheson is convinced she'll never love again. This Christmas will become the opening act for her holiday happily ever after.
Merrillee Whren, Puppy Love and Mistletoe
Can a little girl and a fluffy black dog bring a reluctant couple together in a Christmas miracle?
Reviews

Great Christmas Stories

IN TIME FOR CHRISTMAS is a holiday story where a doctor, Sylvia, helps a single lawyer, James, with his brothers baby when they are stuck in an airport and then on a plane. James knows nothing about babies and the baby likes Sylvia. This story is humorous and heartwarming.
UNIQUE CHRISTMAS features a clumsy girl, Chiara, who is saved by a strong stranger, whom she calls Teddy. When they are being followed, she helps him to get away. You will laugh through the whole book. This is an enjoyable story.
CHRISTMAS WITH THE CAT LADY is about a woman, Carly, who likes to live alone and do her art with her cats. When her twin brother, Brent, an editor, sends one of his writers' blocked writers, Josh, out there to get some peace. Josh recalls a loss he had at Christmas. Carly, too, lost the only man she would ever love. They try to help each other through their grieving. This book is kinda sad, yet a heartwarming Christmas story
LOVING WINTER is a story about a woman, Winter, who owns a flower shop and a football coach, Clay. Both are not interested in meeting a partner, but thrown in a wedding together. Both have tragic pasts and are afraid to start over. Winter helps Clay with his teenage sister and brings them closer.
In ONCE UPON A CHRISTMAS Rose leaves a bar to her two nieces, so it won't be sold. Ashton comes home and runs into her ex-boyfriend, Sawyer, who is still in town. While they are trying to fix up the bar, Ashton is kidnapped by a spoiled classmate and Sawyer has to find her.
CHRISTMAS IN WALNUT CREEK is about a married couple who buy an inn, but when Mac goes off to make a movie and leaves, Jillian is left all alone to run the inn. With such distance between them, they grow apart and they divorce. Mac doesn't know Jillian is pregnant when he leaves. He also gets snowed in at the inn to find out. What I really hated was that Jillian gets all the blame for not telling him about the baby. First, she didn't know when they started divorcing. Second, she found out afterward and was not trying to trap him and force him back. Third, he is the one who left her all alone and was carousing with all sorts of women. Even the people in the inn, who were supposed to love her, blamed her.
A TEAM MACACHEK CHRISTMAS: In this story Jesse is a racer who comes back to his hometown for Christmas just to run into the ex, Lauren, who dumped him. Lauren is trying to make money to go to college on because her father left her and her mother and won't pay for her school any more. Lauren had dropped Jesse because she didn't want to have to rely on a man like her mom had.
SAVING MISTLETOE is about a mounted policeman, Burke; a fancy lawyer, Ellen; and a homeless little girl, Missy (Mistletoe); whom they are both trying to help. Ellen keeps walking into Burke on his patrol. So when he finds Missy living in a car with her sick father, he gets Ellen to help him with her. This is a heartwarming and humorous read.
A GIFT OF YESTERDAY: Bailey is a chef from Paris who moves to a small town after all her relatives die. She won't date because she thinks everyone she loves will die. Joe is a contractor who did some of the work in her shop and had known her when she visited the town with her mom as a kid. He liked her all along. Bailey wants to open a bakery and Joe wants to get with her.
A PORTAUGUESE CHRISTMAS is a story about a olive farmer, Adolfo, and a surfing champion. Krystal. Krystal comes to Green Pines in order to win a surfing contest, but she wipes out and is saved by Adolfo. When the doctor says no more surfing, Adolfo tries to save Krystal from herself. He works too hard and she plays too hard; this makes for their baggage as they fall in love.
CHRISTMAS IN MONTANA has Kristen going to Montana to fix up her grandmother's soon-to-be-sold house, but she decides to move there and open a coffee shop. However, a crooked realtor, Eric, wants her to just sell it so he can flip it, buying it low and selling it high. While boarding her horse, she meets Lane, the local vet, and his sister, who takes care of her horse. Someone is trying to run Kristen off while Lane and Becca help her to fix up her house.
A COWBOY FOR CHRISTMAS: Hannah is working on a horse ranch to be close to a guy she likes, even though she is afraid of horses. The ranch is owned by her friends Ashley, Jessica, and Jacob (the guy she likes.) Then, their older brother, Michael, shows up and forces Hannah to clean stalls. He gets in her way with Jacob. Although she thinks he is mean, she has to get along with him.
LOVING YOU AT CHRISTMAS: Annaliese is an artist/actor who moved back to a little town after the death of her husband. She ran away from her abusive parents when she was 16, changed her name, and became an actor with the help of her husband. So when he died, she thought she could never love again. John is a NFL football player who came home to take care of his best friends' four young daughters: Joleen, Carly, Sammy, and Bree. Annaliese is asked to produce the school music program. When Carly can't sing for her at school, John brings her to the theater to audition. This is a tearjerker, but still enjoyable.
PUPPY LOVE AND MISTLETOE: Amelia is afraid of dogs after being bitten as a kid. So when a dog follows her home, she is scared and gets her friend to help her get the dog back to his owner. Scott is raising his best friend's daughter, Lily, after his best friend and his wife were killed in a car accident. Lily invites Amelia to game night and tried to get Amelia to date her new adopted father.

Customer Cathy
Excerpt

Unique Christmas

Tomorrow is Christmas. The thought should have made me happy. Instead, it made me feel tired. I rubbed my eyes as I mounted the last rickety steps into my office to get my coat before going home. Major mistake. My right foot got caught somehow, and I fell through the flimsy door into my shadowy attic office, landing on my knees.

Grumbling, I picked myself up. My clumsiness had started sometime in my teens, when my legs and arms had grown with a speed that was downright scary. At the time, people laughed at me and found me cute. But now, I was thirty-two years old, and I still had all sorts of accidents all the time, and it wasn't cute anymore. It was Embarrassing, with a capital E. At least, nobody had seen me this time.

I work as Public Relations Manager at the small but international advertising agency Bello & Pronto in Florence, Italy. This year, the agency had grown like my arms in my teens, and my boss had employed six new people. However, he had not really considered the need for all of us to sit and work somewhere, so the resulting space problem had given us a sardine-in-a-can-feeling.

When I had fallen over my colleague's feet for the sixth time in one week in September, which resulted in a hissing fit of said colleague (I admit, her legs were a bit blue), my boss had the brilliant idea to give me some more space and quiet – by placing me in the attic. Never mind that it wasn't really insulated. Never mind that you could only reach my new office by climbing the most rickety stairs you've ever seen.

For an instant, I had wondered if he was trying to throw me out of my job in some subtle way. Or murder me. However, I'd worked for my boss for six years already, and I knew he was a dear at heart. So I bought a rope to give myself something to hold onto when I mounted, and I accepted my new office. To my surprise, it was heaven. While writing the press releases I needed to churn out at an ever-increasing speed, absolute quiet helped me make the words sing, and when I lifted my head, I could look straight into the attic window on the house at the other side of the street.

Not that there was much to see. It was a dusty little window, and it showed an attic similar to mine, empty, with the exception of tons of dust and an old wooden cupboard at the far wall. That cupboard intrigued me. When I got stuck with my texts, I went to my window, opened it, leaned out and tried to imagine how that huge cupboard had ended up in the attic, and what it contained.

My office is in Via Montenerone, in the historic city center of Florence, but the street hardly ever appears on a map – it's simply too small. The distance between the houses is so narrow I can almost touch the opposite wall when I lean out the window and stretch out my arm. I only tried that once. With my propensity for falling, it's better not to press your luck when leaning out of windows. I contented myself with looking and speculating and admiring the fancy woodwork on the cupboard. Its doors were covered with little carved flowers I could easily discern when the sun shone in. That happened every day for about five minutes, but only until mid-September. Then the sun sank too low. I already looked forward to spring and wondered when the sun would make it above the roof tops again, so it could reach the room.

Now, I rubbed my knee and hobbled to my desk to get my handbag and coat. Ten days without work stretched out ahead of me, and I couldn't wait to crash and sleep and relax. It had been an exhausting year.

From the retreating voices downstairs, I knew I'd soon be on my own in the building. Not that this was anything new. I'm a night owl and had long since received the keys to the office. Besides, we'd just said good bye and Merry Christmas to each other with a bit of Prosecco and some snacks. The office was about to close for the year, about an hour later than planned, but we were getting there.

I sighed with happiness and suppressed the slight feeling of unease that pooled in my stomach. My parents had gone on a cruise this year, leaving me alone for the first Christmas since I was born. I'd told them to go ahead and enjoy the sunshine, but now that Christmas was here, I wasn't so sure anymore.

My sort-of boyfriend Rodolfo had also gone home to his parents in Milano for Christmas. I had to admit I'd waved him off with a lifting of my heart when his car had finally driven down the road. His stuffy presence had become unbearable these last weeks. Rodolfo was a lawyer and compliance manager at a big bank. He earned tons of money, making sure everyone in his bank stuck to every single law the governments of Europe and Italy had ever dreamed up. Some made sense. Most didn't. He didn't care about that. He spent his days enforcing all of them. When I got to know Rodolfo eight months ago, I had no idea a compliance manager had to have the most nitpicking personality imaginable. Talk about professional deformation: He quoted paragraphs at me even while undressing, and that really made me nervous.

On the other hand, he was a dear. He was sweet and reliable and steady. I did value that, which was why I tried to make a go of our relationship, but finally, a week ago, I gave up. I told him we needed to think about our relationship, and some time apart would help both of us to see clearer. He was devastated. I was relieved.

But now, with Christmas almost upon me, I hesitated. Was I going to be lonely? "Nonsense," I told myself, trying to make my voice sound firm. "I'll finally have time to—" I lifted my head and stopped mid-sentence.

The attic window in the house next door, the one that had intrigued me, was alight. I could see it clearly, a rectangle in the dark, like a medium-sized television screen or a tiny theater stage. A man sat at a desk that seemed to have materialized out of nowhere. He had his profile to me, and I could see his strong jaw, his coffee latte skin, and his mop of dark curls as if I stood in the same room. He stared at the screen of a notebook with a frown that made his eyebrows bristle, and he was wearing an ugly, hand-knitted sweater made of some mottled brown wool. Where had he sprung from?

Mesmerized, I took a step forward. In all these weeks, I had never seen a soul up there. The attics had been my private area, giving me the feeling the roofs were my world alone, and now, just before Christmas, this guy had appeared like . . . like Father Christmas.

I smiled at myself. No, he didn't look like Father Christmas at all. I took my time to survey him a bit better. He looked like a teddy bear. A brown, cuddly teddy bear, particularly with that rough sweater and those unruly curls. A Christmas Teddy.
Actually, it was quite a nice view – a decided improvement. But what terrible timing! Would he still be sitting here in the New Year? I had spent my life in this attic these last weeks – at least, that's how it felt – and now, on the very day when I planned to go on vacation, he appeared. It wasn't fair.

Maybe I could say something nice to him? Something like Merry Christmas or equally meaningful stuff? Yes, that's what I would do. Maybe we could have a little chat and I could find out if he'd come to stay for longer.

I went to the window, took hold of the handle and yanked it open. The window had a tendency to get stuck, but I'd long ago learned the trick. If I pulled just so, with all my might, and twisted it a bit to the side, it would open with a little, familiar creak.
There it was. The creak.

Then I heard another creak. Only it wasn't a creak. It was a crash. And then, before I knew what was happening, the whole window became unstuck and crashed onto my head. I went down like a sack of potatoes.