Cozy Mystery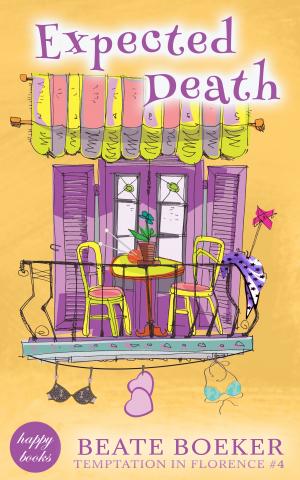 Temptation in Florence #4
Falling in love on his eightieth birthday was not one of the planned party surprises, but Cupid's arrow hits Uncle Teo hard. The rest of the Mantoni family, however, is in an uproar because the new girlfriend, Olga, has an astonishing talent for making enemies.
Before long, the family is ripe for murder, and when Olga is indeed found dead at the foot of the historical San Niccolò Tower, the Mantonis all cheer . . . until commissario Stefano Garini is forced to arrest a Mantoni family member. This, of course, makes him unpopular with his girlfriend, Carlina. She sets out to prove that her family is innocent, running straight into a trap. Will Garini arrive in time to save Carlina?
Expected Death is the fourth mystery in the series Temptation in Florence.
Reviews

Five stars
Can't wait for #5!
I pre-ordered this book but waited a few weeks before reading because I knew once I started I wouldn't put it down….now I wait patiently for the next .
Carol Fair

Five starts
At last – another visit with the mad Mantoni clan
What a joy to get to visit with the mad Mantoni clan again. I look forward to every book because it's like seeing old friends. In addition to being a challenging mystery, each Mantoni family book is full of real people, people you feel you know. Uncle Teo falls in love, but not wisely. How the family reacts to his bringing an old enemy of his daughter's in as his live-in-love is all too human and understandable. Boeker's skill in creating these people is that while I was outraged at his actions, I could also feel his emotions and desires, and when the murder occurs it was as if I had lost someone I knew. The solution was ingenious and unexpected. I hope Boeker is busy writing another Mantoni murder, because I'm already ready for it.
Amazon customer

Five stars
Worth reading!
Great characters and plot. Especially like the glimpses of Florence, my favorite Italian city. A great novel, like the previous three.
_Jeanne Delikat__
Excerpt

"Psst! Psst! Carlina!" Fabbiola waved her arms and charged through the dancing couples with the subtle efficiency of a rhino.

Several people turned to stare. Dusk was falling, and the lights on the trees had just gone on, giving the converted Tuscan farmhouse yard a magic atmosphere.

Carlina winced and hid her head at her boyfriend's chest in the hope that her mother wouldn't spot her.

His arms tightened, and with one quick step, he swung her around so they ended up behind a large terracotta pot with a leafy olive tree.

Carlina looked up at him. "Thank you."

"My pleasure." Stefano smiled. "I'm at your service whenever you need a bit of distance from your family."

She chuckled. How good it felt to be in his arms, to inhale his familiar scent. "I didn't know you danced so well."

His smile deepened. "There are plenty of things you don't know about me yet."

"Psst! Psst! Carlina!" Fabbiola's excited voice was coming nearer now.

Stefano pulled Carlina further away, toward the lilac hedge. The warm May evening air was filled with its fragrance. He gave her a measuring look, a little devil in his eyes. "I doubt my little strategy will work, but it's worth giving it a try." He tilted up her chin and kissed her until Carlina clutched the lapel of his elegant dinner jacket, not sure if she did it to pull him closer or if she needed something to hold onto as her knees turned soft.

"There you are!" With a swish of her long skirt, Fabbiola appeared next to them and tapped her foot. "Will you please listen?"

Stefano released Carlina with a sigh. "I thought as much. Subtle hints are entirely wasted."

Carlina didn't open her eyes at once, not trusting herself to speak. She had only gone out with Stefano Garini for a few months, and this was her first chance for a slow, romantic dance with him. Way too often, she was booked out with the activities at her high-end lingerie store Temptation in the center of Florence, and it didn't help that he was equally often called away at short notice in his capacity as Commissario of the Florence homicide department. In fact, it was a wonder that he had made it to Uncle Teo's eightieth birthday party at all, as they celebrated the occasion on a wine-growing estate that was situated a two-hour drive from Florence. She resented the interruption of her mother with such a fierce emotion that it made her choke.

"Carlina." Fabbiola tugged at her sleeve.

Carlina swallowed. Her mother's voice sounded more upset than usual – perturbed beyond her usual state of craziness. Maybe she should listen after all. To calm herself, she took a deep breath, then gave Stefano a wry smile as well as an apologizing glance and touched his cheek. "You're right. Subtle hints are lost in the Mantoni family."

"What are you talking about?" Fabbiola frowned.

"Nothing." Carlina turned to her mother, curbing her impatience. "What's the matter, Mama?"

"You've got to come with me to the other side of the dancing area." Fabbiola pointed beyond the dancing couples who turned slowly to the soft strains of the music. "I need your help."

Stefano shrugged and turned away. "I'll see you later, then."

"Oh, no." Fabbiola caught the sleeve of his dark suit. "I need both of you."

"Why?" Carlina eyed her with unease. What was her mother up to now?

"I can't explain." Again, Fabbiola tapped her foot – though it sounded more like an impatient stomping now. Her henna-colored hair – for once elaborately coiffed to celebrate her uncle's eightieth birthday – moved, and one persistent strand of hair fell forward over her eyes. "There's no time. Come on." She grabbed them both by the hand and pulled them through the throng of people. It was as if the lilting music, the warm air, and the festive dresses didn't have any effect on her.

Carlina hung back. "I'm not going anywhere until you tell me why it's so important. You just destroyed a precious moment, and I resent that."

Fabbiola rolled her eyes. "There'll be plenty of other precious moments in your life. But this can't wait." She charged forward like a steam boat. "Teo is in trouble."